TODAY'S LATEST SATELLITE PICTURES: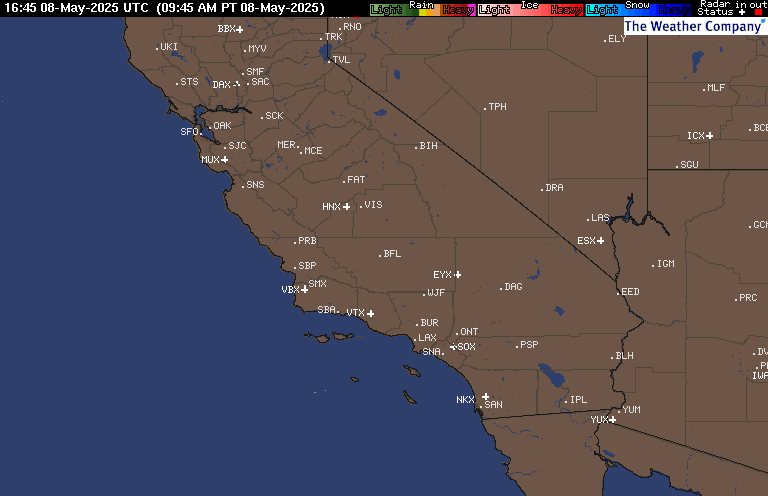 ---
---
TODAY'S WEATHER DISCUSSION AND FORECAST:
..Good Morning.
..Yesterday's Rain reports for the County, and the Mountains are on the Alerts Page of the website.
..After our weak storm yesterday, clear skies have arrived this morning. Most areas around the mountain had at least a dusting of snow yesterday as the area of Low pressure passed through. At my location I had .11″ of rain/melted snow and maybe .50″ of snow.
..This morning there are a few clouds hanging around the lower elevations over San Bernardino and the local HWY's. These are not having any impact on driving the local HWY's this morning.
..Today and Friday we will have mostly clear skies with a slow warming trend. Winds should remain light and variable for both days.
..Saturday an area of Low pressure will move onshore in Central and Northern California. This will bring rain and snow to the Nor-Cal Region. However, here on SoCaL we will not see rain from this system. We will have increasing SW winds or onshore flow Saturday, then a brief period of NE winds again for Sunday along with cooler temperatures.
..For Monday and most of next week, there will be increasing chances for a couple of systems to move into SoCal. Monday increasing clouds will be likely along with strengthening onshore flow as the first of several areas of Low pressure move through the West. Monday there will be a 10% chance for a shower.
..Tuesday, the chance for rain will begin to increase as another area of Low pressure moves onshore in Central California.
..Wednesday looks like our best chance for measurable rain and possibly snow for our area. This storm currently has the best potential for making it into SoCal and could last into Friday morning before clearing out.
..So generally, next week looks cooler and possibly stormy on and off throughout the work week.
..Have a good day. That's it for today! *RC
---
Yesterday's High and Low temperatures and current winds:
Crestline-44/29*-.11″, Playground Dr-37/28* Winds-N-5-10mph, Cdr-Pines Park-43/32*, Twin-Peaks-40/29*, Rim Forest-43/31*, Lake Arrowhead Village-44/27* Winds-S-2-5mph, Arrowhead Villas-42/30*, Heaps Peak-35/25*-Winds-S-7-12mph, Running Springs-42/28*, Big Bear-43/18*, Upper Waterman Canyon-41/37*-Winds-S-2-5mph, Lower Waterman Canyon-NR/NR*-Winds-mph, San Berdo-60/39*, Cajon Pass-NR/NR*-Winds—mph, Devore Heights-53/37 *Winds-NE-2-5mph, Cajon Lookout-NR/NR*-Winds—mph.
---
http://lakegregoryweather.com/wp-content/uploads/2017/06/logo6.png
0
0
Ron
http://lakegregoryweather.com/wp-content/uploads/2017/06/logo6.png
Ron
2020-04-16 09:28:56
2021-03-04 09:24:51
Thursday, March 04, 2021