TODAY'S LATEST SATELLITE PICTURES: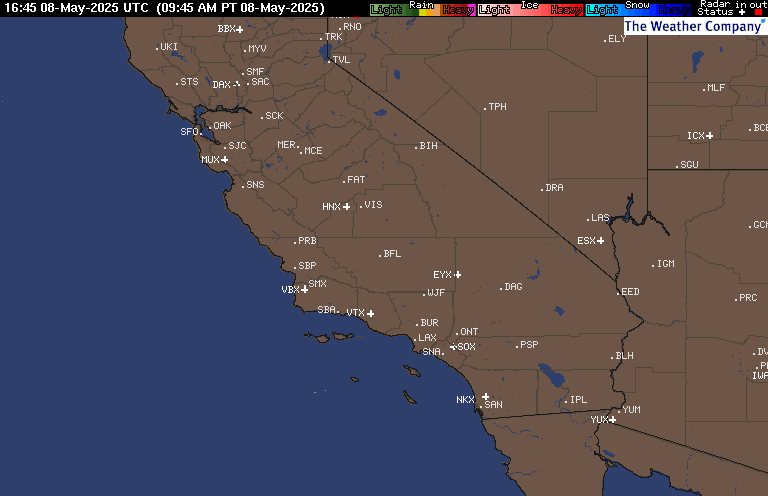 ---
---
TODAY'S WEATHER DISCUSSION AND FORECAST:
..Good Morning.
A WINTER STORM WARNING IS IN EFFECT TODAY FOR ALL OF THE LOCAL MOUNTAIN AREAS ABOVE 3000′ UNTIL 10PM TONIGHT.
AT THIS TIME (7AM) CHAINS ARE REQUIRED ON ALL VEHICLES FROM LAKE GREGORY DRIVE AND 18, AND ABOVE AS WELL AS HWY 330, 38, AND 189.
..More snow fell over night. 7″ Crestline, close to two feet total so far in Twin Peaks and Running Springs, Arrowbear 10-14″ and Big Bear 12-24″, so far.
..Snow is expected to continue throughout the day today tapering off this afternoon, but not ending until tonight. Scattered showers will work their way through the area on and off with additional accumulations from 4-8″ at the lower elevations, and up to another foot, at the higher elevations will all be possible today.
..Gusty winds, more snow, along with a chance for Thunderstorms will make for a good day to stay home!
..This storm will gradually move East today with slow clearing late this afternoon or early evening.
Temperatures will remain pretty cool for the next couple of days due to cold air advection from the interior West, as well as low radiational absorption due to the current snow pack.
..Tuesday and Wednesday the sun will return with only partly cloudy skies at times both days. No more snow is expected for those days and only slight warming.
..Thursday, another potentially stronger storm will move into SoCal from the North. This system will move South along the Coast of California Tuesday. But it will stall out along the Central coast off of Monterey or Point Conception Wednesday, they will get from 5-10 inches of rain there as an Atmospheric River (AR) will enhance the moisture in this system there.
..The storm will begin to move South either late Wednesday night, or early Thursday morning into SoCal. The rainfall totals here don't look as impressive as the Central Coast but we still could see some substantial rains from this storm locally.
..Storm rainfall totals are running from 2-4″ for the local mountains. The recent burn areas need to watch this storm as there could be mud and debris flows in the burn areas due to high rainfall rates at times.
..The snow levels will be higher due to the system sitting offshore Wednesday and Thursday causing it to warm up as well as the influx of the AR. However, more snow is expected above the 6000′ level Thursday then lowering to the 4500-5000′ level Friday. The dynamics of this system could get interesting.
..After the Friday storm passes, we will have a break for the weekend.
..The next possibly storms will arrive around the next Tuesday or Wednesday, then possibly another strong system for the 7th of February. This is a long way out so I don't put to much faith in those just yet.
..Be safe out there. Watch out for the plows. *RC
---
Yesterday's High and Low temperatures and current winds:
Crestline-34/24* 7″ new snow, 1.25″ melted moisture, Playground Dr-34/27* Winds S-0mph, Cdr-Pines Park-32/27*, Twin-Peaks-32/24*, Rim Forest-33/25*, Lake Arrowhead Village-36/27*, Arrowhead Villas-32/26*, Heaps Peak-33/24*, Running Springs-31/23*, Big Bear-35/24, Upper Waterman Canyon-41/32* Cloudy, San Berdo-56/37*-1.28″, Cajon Pass-46/33*Foggy, Devore Heights-45/33*R-.91″.
---
http://lakegregoryweather.com/wp-content/uploads/2017/06/logo6.png
0
0
Ron
http://lakegregoryweather.com/wp-content/uploads/2017/06/logo6.png
Ron
2020-04-16 09:28:56
2021-01-25 09:06:28
Monday, January 25, 2021