TODAY'S LATEST SATELLITE PICTURES: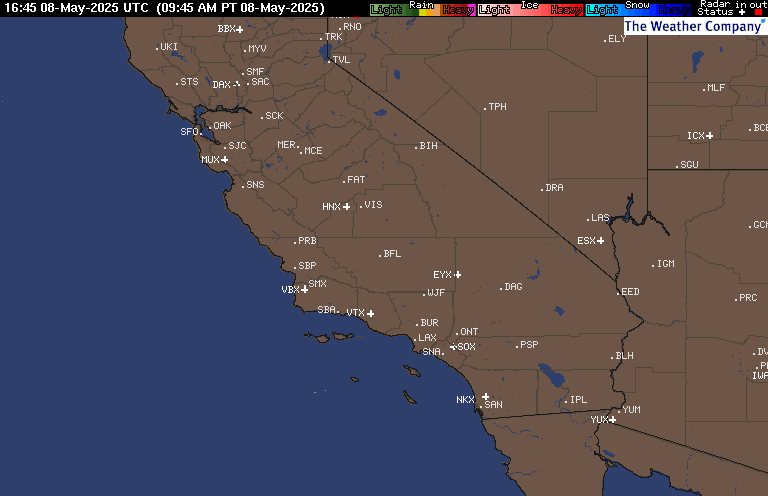 ---
---
TODAY'S WEATHER DISCUSSION AND FORECAST:
..Good Morning.
..This morning we have clear skies in the mountains, with low level Fog in the Valley.
..Today will be much like yesterday for the mountains as clear skies and warm temperatures continue through Thursday. However, things will begin to change later in the week as an area of low pressure moves onshore to our North.
..Today and tomorrow daytime high temperatures will be in the mid to upper 70s for Crestline and Lake Arrowhead. Running Springs and above will be a little cooler with daytime highs running in the upper 60s to low 70s. All areas will have clear skies along with light winds.
..Friday as the area of low pressure moves into the PAC-NW, we will see and increase in the depth of the marine layer, gusty SW winds at times with cooler temperatures through the weekend. The Marine layer will deepen to the ~6000′ level by Saturday night and for Sunday morning, with light drizzle, Ridge Fog, as well as gusty SW winds. Drizzle and light rain will be possible especially along the foothills and the Southwest facing Ridges below the 6000′ to 6500′ level through Sunday night.
..Monday the Marine layer will weaken as a weak Ridge of High pressure moves over the Region. Temperatures will warm up a few degrees for the first of the week, then cool again late in the work week..
..This pattern will be the norm for the next couple of weeks as we transition to a more Summer like pattern later in the month.
..That's it for today.. *RC
---
Yesterday's High and Low temperatures and current winds:
Crestline-80/49*, Playground Dr-69/53*-Wind-S-7-10mph, Cdr-Pines Park-77/59*, Twin-Peaks-76/58*, Rim Forest-80/54*, Lake Arrowhead Village-80/44*-winds E-2-5mph, Arrowhead Villas-74/58*, McCay Park-76/51*, Heaps Peak-68/59* Wind NE-7-10mph, Running Springs-71/55*, Big Bear-69/32*, Upper Waterman Canyon-75/50* Wind SE-1-3mph, Lower Waterman Canyon-80/52* Wind-NE-3-5mph, San Berdo-84/56*, Cajon Pass-78/51*-Winds-SE-2-5mph, Devore Heights-82/51*, Cajon Lookout-77/61*-Wind-NE-3-5mph.
---
http://lakegregoryweather.com/wp-content/uploads/2017/06/logo6.png
0
0
Ron
http://lakegregoryweather.com/wp-content/uploads/2017/06/logo6.png
Ron
2020-04-16 09:28:56
2021-05-12 07:49:22
Wednesday May 12-2021