TODAY'S LATEST SATELLITE PICTURES: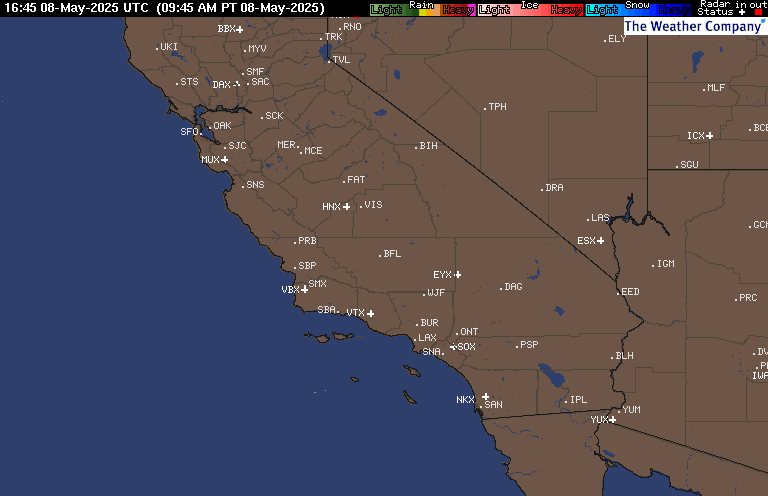 ---
---
TODAY'S WEATHER DISCUSSION AND FORECAST:
..Good Morning.
..This morning we have sunny skies, no wind, and just a nice day ahead.
..Change is in the forecast for the next few days and even a couple chances for some rain.
..Today and area of Low pressure will move onshore in NOR-CAL. Then drop South into SoCal by tonight. SW winds will be picking up later today becoming gusty in the mountains tonight. Overnight the Marine layer will deepen with the help of a coastal Eddy, and move Inland to the local foothills. Fog and clouds will be likely along some parts of the Rim tomorrow morning. The Fog layer is expected to deepen to around the 6000′ level by morning. We may see some clearing late in the day as the first Trough passes through but right on its heels is another Trough that will keep Fog and clouds in the Forecast through Friday morning. Along with the Fog and clouds, light rain and or drizzle, with tree rain along the parts of the Rim that are in the fog bank, will make for wet roads and poor visibility through Friday morning. Temperatures will be much cooler as well with some areas dropping into the low to mid 30's.
..This is the first part of the pattern change.
..Friday through Saturday night, we should see mostly clear skies with warmer temperatures as a weak and quick moving Ridge of High pressure moves across SoCal.
..Sunday night, a sharp Trough axis will move through SoCal from the West. This will bring a better chance for actually some measurable rain to the region for Sunday night through Monday, or Tuesday morning depending on how fast this all moves through. We could see snow levels drop to the ~6500′ level with this system as it looks this morning for our area.
..Then after this all clears out by Tuesday, another ridge of High pressure will bring back more seasonal temperatures and weather to the area through the weekend of May 1st.
..That's it for today! *RC
---
Yesterday's High and Low temperatures and current winds:
Crestline-74/43*, Playground Dr-66/53*-Wind-S-4-6mph, Cdr-Pines Park-70/50*, Twin-Peaks-69/49*, Rim Forest-74/46*, Lake Arrowhead Village-74/37*, Arrowhead Villas-69/52*, McCay Park-69/43*, Heaps Peak-62/51* Wind N-2-9mph, Running Springs-65/46*, Big Bear-66/27*, Upper Waterman Canyon-77/53*Wind NE-2-4mph, Lower Waterman Canyon-84/56* Wind-NE-3-5mph San Berdo-89/51*, Cajon Pass-81/51*, Winds-NW-5-8mph, Devore Heights-85/53*, Cajon Lookout-73/56*-Wind-SW-2-4mph.
---
http://lakegregoryweather.com/wp-content/uploads/2017/06/logo6.png
0
0
Ron
http://lakegregoryweather.com/wp-content/uploads/2017/06/logo6.png
Ron
2020-04-16 09:28:56
2021-04-20 09:10:26
Tuesday April 20, 2021