TODAY'S LATEST SATELLITE PICTURES: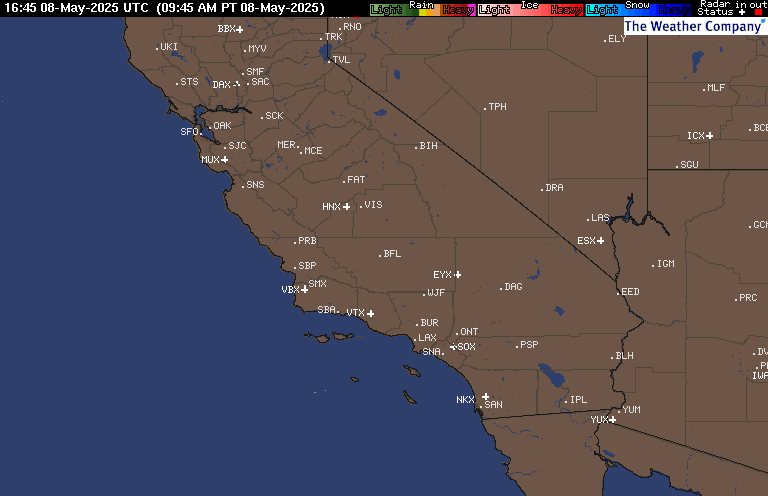 ---
---
TODAY'S WEATHER DISCUSSION AND FORECAST:

..Good Morning.
..Another beautiful day in the works for today.
..Today there is an area of Low pressure at the surface in the Great Basin. Offshore, the surface pressure is higher creating an onshore pressure gradient across the region. This will increase over the next few days as the upper level Ridge over SoCal that has brought very warm temperatures moves East, and a Trough begins to develop across the West for the rest of the weekend.
..Today as the Ridge moves out, Temperatures will be a little cooler followed by 7-10* of cooling tomorrow as an upper level Trough develops along the West Coast.
..Temperatures will continue to cool through next Tuesday, with morning Fog developing along and below the Rim Sunday and Monday. The coldest day of the next five will be Monday, with high temperatures running in the upper 50s to low 60s in the mountains as the Trough Axis passes over SoCal.
..Gusty winds will develop beginning tomorrow, especially in the Deserts and passes, so if you are driving a high profile vehicle over the weekend, keep this in mind.
..As the trough along the coast develops over the next few days, a cut off Low will also develop across Utah, Nevada, and Southern Idaho by Monday. This will slow the exit of the Trough until Tuesday when it will shift East.
..We may see a brief period of NE winds Tuesday, as the Trough exits and we will be in the N to S circulation around the departing Low.
..So the Holiday weekend will be cooler than the last few days, but we should have plenty of Sun except along the Rim on Sunday and Monday.
..TODAY'S LOCAL FIRE DANGER LEVEL IS AT, HIGH DUE TO LOW HUMIDITY LEVELS AND GUSTY WINDS ALONG THE SOUTH FACING SLOPES.
..My weather reports are derived from a variety of sources. This is how it looks today. RC*
---
Yesterday's High and Low temperatures and current winds:
Crestline-86/64-E-2-6mph, Dart Canyon-82/65*, Playground Dr-79/61-S-4-6mph, Cedar Pines Park-82/60*, Twin-Peaks-78/62*, Rim Forest-83/58*, Lake Arrowhead Village-85/63*-SW-3-5mph, Arrowhead Villas-80/60*, MacKay Park-81/61, Cedar Glen-78/65*, Rock Camp-88/64-FM-6gm-SE-7-10mph, Heaps Peak-74/62*-NE-2-5mph, Running Springs-77/55*, Arrowbear-75/48*, Green Valley Lk-78/59*, Big Bear-80/45*, Panorama Point-81/65*-E-1-5mph, Upper Waterman Canyon-84/62*-SE-2-4mph, Lower Waterman Canyon-89/57*-S-4-7mph, San Berdo-92/57*, Devore Heights-91/58*, Cajon Pass-87/58*-SE-8-11mph, Wrightwood-88/50*, Sky Park-79/60*-S-4-7mph.
https://lakegregoryweather.com/wp-content/uploads/2017/06/logo6.png
0
0
Ron
https://lakegregoryweather.com/wp-content/uploads/2017/06/logo6.png
Ron
2021-10-24 10:58:22
2022-05-26 09:34:50
Thursday, May 26, 2022