TODAY'S LATEST SATELLITE PICTURES: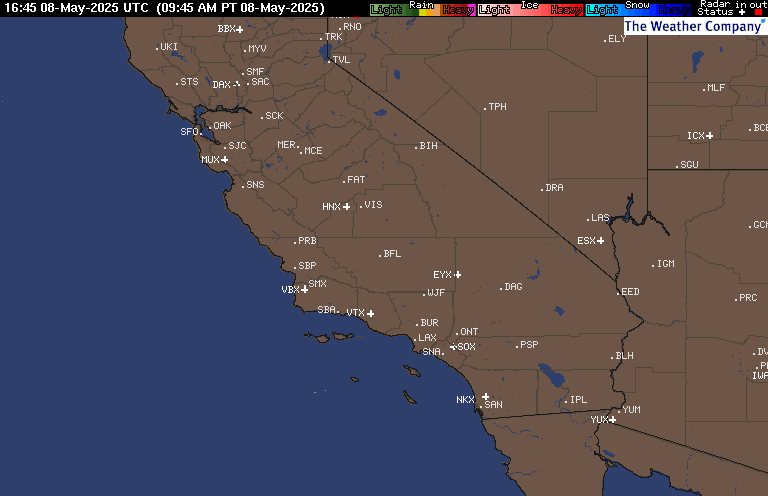 ---
---
TODAY'S WEATHER DISCUSSION AND FORECAST:

..Good Morning.
..Clear skies this morning With light and variable winds will be the outlook for today. Temperatures will remain on the cool side with highs today in the upper 50s to mid 60s for most areas around the mountain communities.
..High pressure will build over the area through tomorrow helping to bring warmer temperatures to the region.
..A significant rain event is looking very likely for most of the PC-NW in the coming days. An AR with a possible CAT5 category rating is forecast for the PAC-NW. This system will likely bring a good rain event to SoCal between Sunday through Tuesday Morning. The freezing levels will remain pretty high due to the Tropical connection with this system.
..As the area of High pressure moves out tomorrow night, a cooling trend with increasing marine layer coverage along with gusty SW winds will replace it.
..Morning Fog and low clouds will move Inland for the weekend as the system moves onshore to the north. Drizzle and wet roads can be expected on the West facing slopes locally and possible up to the Rim in some areas.
..Preliminary rainfall amounts for the local area currently are running from 1-2″ of much needed rainfall.
Again, the snow levels will be above 7500′ as it looks this morning.
..I will have another update as we get closer to the weekend and things become more clear with this upcoming system.
..I will be taking a break for a few days. RC
..That's it for now, have a good day! RC
---
Yesterday's High and Low temperatures and current winds:
Crestline-60/35*, Playground Dr-54/44*, Cdr-Pines Park-56/44*, Dart Canyon-61/45*, Twin-Peaks-58/45*, Rim Forest-56/41*, Lake Arrowhead-56/35*, Arrowhead Villas-55/45*, Heaps Peak-58/43*, Running Springs-56/42*, Arrowbear-59/28*, Green Valley Lk-54/29*, Big Bear-54/26*, Upper Waterman Canyon-63/48*, Lower Waterman Canyon-69/49*, San Berdo-72/44*, Devore Heights-70/48*, Cajon Pass-67/47*, Rock Camp-62/41*, Sky Park-55/45*.
http://lakegregoryweather.com/wp-content/uploads/2017/06/logo6.png
0
0
Ron
http://lakegregoryweather.com/wp-content/uploads/2017/06/logo6.png
Ron
2020-04-16 09:28:56
2021-10-22 10:25:29
Friday, October 22, 2021