TODAY'S LATEST SATELLITE PICTURES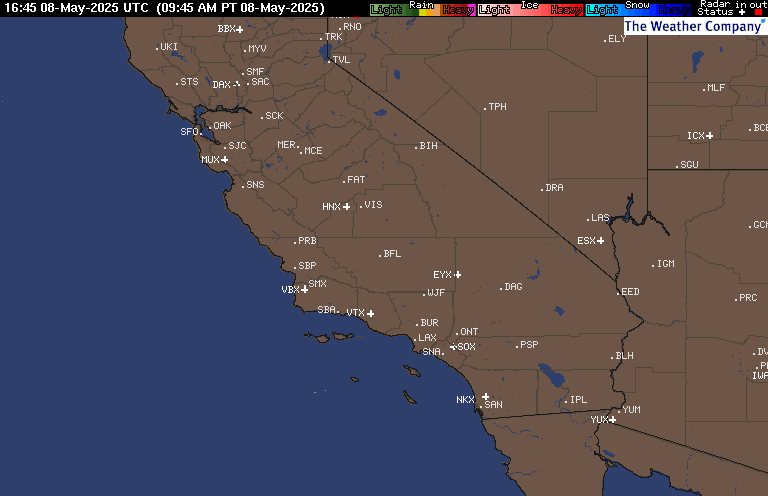 ---
---
TODAY'S WEATHER DISCUSSION AND FORECAST
....Good Morning.
..TODAY'S WX:
..Thursday's WX, Today we will have clear skies except for some high clouds later today. Temperatures will be a little warmer than yesterday.
The winds have all but died out this morning and will stay that way for now. High clouds will filter in from the West as an area of Low Pressure out over the Eastern Pacific heads North into NOR-CAL for tomorrow. Showers will move into the PAC-NW later today and Friday but here we will stay dry for now. A weak Ridge will build over SoCal through Saturday keeping us in a nice weather pattern until then. Temperatures will continue to warm slowly Friday and Saturday.
..LOOKING AHEAD:
..Saturday will be a transitional day. We will start the day with mostly clear skies, then clouds will begin to form late in the day. By Sunday there will be 20% chance for scattered showers across the area. Monday will be partly cloudy with a continued chance for showers. Temperatures will be much cooler so there will actually be a chance for snow flurries Monday.
..All of this will clear out by Tuesday, leaving mostly clear skies for Tuesday through Friday. Temperatures next week after the storm blows out will be colder through the rest of the work week next week.
..🔮 For the CRYSTAL BALL OUTLOOK:
..After a cold week next week, the weekend looks like a pretty good chance for a cold storm to bring rain and snow to our area for next weekend. This is in Crystal Ball territory, so there will be lots of changes between now and then. That's just how it looks now on the long range outlook. The 4-7day looks dry but the 8-12day looks wetter than normal for our area, and colder.
Yesterday's High and Low temperatures and current winds:
Crestline: 45/25*-NE-4-6mph, Playground Dr: 39/35*-N-3-6mph, Dart Canyon: 45/35*, Cedar Pines Park: 44/34*, Twin Peaks-Summit area: 42/31*, Rim Forest: 41/33*, Lake Arrowhead Village: 44/25*, MacKay Park: 47/29*, Rock Camp: 49/30*, Arrowhead Villas: 41/33*, Cedar Ridge: 43/31*, Cedar Glen: 45/32*, Heaps Peak: 42/26*-NE-6-11mph, Running Springs: 42/31*, Live Oak RS: 46/35*, Arrowbear: 45/22*, Green Valley Lk: 44/23*, Fawnskin: 44/16*, Big Bear: 45/13*, Baldwin Lake: 41/16*, Upper Waterman Canyon: 58/43*-NE-3-6mph, Lower Waterman Canyon: 63/47*-NE-3-5mph, San Berdo: 66/37*, Devore: 45/35*-N-2-4mph, Cajon Pass: 59/46*-NW-10-18mph, Santa's Village: 39/33*-NE-2-5mph, Mt High Ski: 39/26*.
https://lakegregoryweather.com/wp-content/uploads/2022/09/logo6.png
0
0
Ron
https://lakegregoryweather.com/wp-content/uploads/2022/09/logo6.png
Ron
2021-10-24 10:58:22
2023-02-02 10:29:13
Thursday, February 02, 2023