TODAY'S LATEST SATELLITE PICTURES: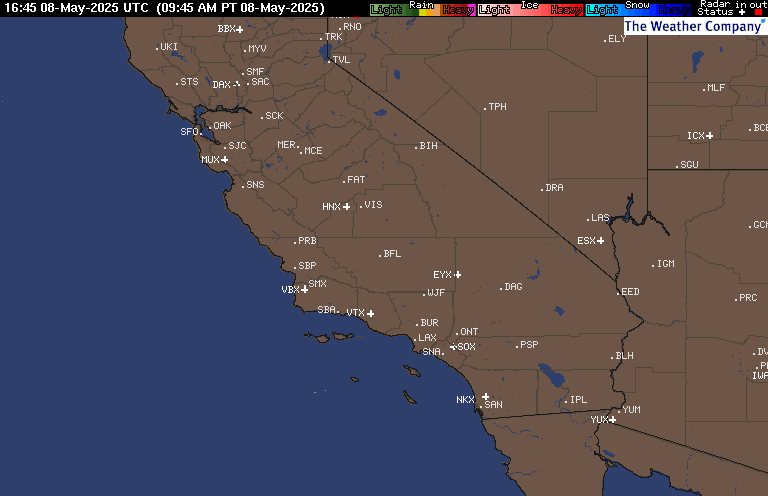 ---
---
TODAY'S WEATHER DISCUSSION AND FORECAST:
..Good Morning.
..Looks like a nice weekend for the mountains. Clear skies with light and variable winds.
..There's not much change for the next few days as High pressure will be our main weather maker for all of SoCal.
..Temperatures will be slowly warming up through Tuesday as the 500mb heights rise over SoCal.
..Monday and Tuesday there will be a weak influx of Monsoonal Moisture into the lower Deserts and the Colorado river basin so I look for a slight chance for a Thundershower there. Over Big Bear we will see a few cumulus clouds develop in the afternoon hours at times for the next few days but the T/Storm chances are slim for any storm activity as it looks now.
..Next week we will still have rather warm temperatures for all of SoCal so the NWS has issued a HEAT ADVISORY for Sunday and Monday for the Valley as temperatures are expected to be in the low 100s.
..Temperatures in the mountains will range from the mid to upper 80s for Crestline and Arrowhead, while Big Bear and the higher elevations will be a little cooler with highs expected to be in the upper 70s to low 80s through Wednesday.
..Have a good weekend! Enjoy the nice weather here in the mountains.
..My weather reports are derived from a variety of sources. This is how it looks today. RC*
---
Yesterday's High and Low temperatures and current winds:
Crestline-85/53*, Dart Canyon-81/64*, Playground Dr-77/64*, Cedar Pines Park-80/62*, Twin-Peaks-81/60*, Rim Forest-84/55*, Lake Arrowhead Village-85/50*, Arrowhead Villas-81/61*, MacKay Park-84/55*, Cedar Glen-77/63*, Rock Camp-86/61-FM-5gm, Heaps Peak-75/63*, Running Springs-76/57*, Live Oak-RS-82-61*, Arrowbear-75/45*, Green Valley Lk-73/55*, Big Bear-79/42*, Upper Waterman Canyon-88/66*, Lower Waterman Canyon-95/69*-NE-4-7mph, San Berdo-100/61*, Devore Heights-96/65*, Cajon Pass-91/62*-NW-9-13mph, Sky Park-77/61*, Wrightwood-77-55*.
https://lakegregoryweather.com/wp-content/uploads/2017/06/logo6.png
0
0
Ron
https://lakegregoryweather.com/wp-content/uploads/2017/06/logo6.png
Ron
2021-10-24 10:58:22
2022-06-25 07:40:38
Saturday, June 25, 2022