TODAY'S LATEST SATELLITE PICTURES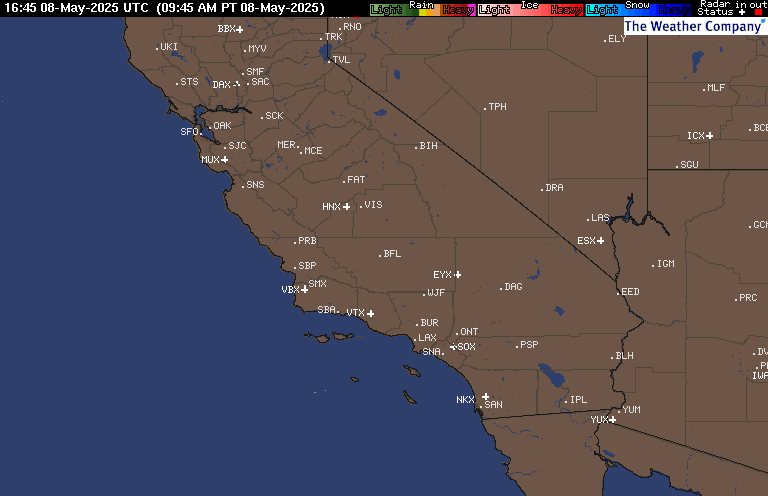 ---
---
TODAY'S WEATHER DISCUSSION AND FORECAST
....Good Morning.
..TODAY'S WX:
..After a very nice and warm day yesterday, things will begin to change today. Temperatures for today are expected to be much cooler as a trough of Low pressure slides by to our East. This will help to turn the NE wind flow to a more SW flow across SoCal by later today. We will have clear skies today except along the Coast where there is some Fog this morning. The Coastal Fog is expected to increase late this afternoon and overnight as a second wave begins to affect our area for Sunday and Monday. Clear skies and light SW winds can be expected for today.
..WEEKEND WEATHER:
..Tonight the weather will rapidly change. Fog will begin to develop along the Rim and foothills by this evening along with gusty SW winds. A Trough of Low pressure will rapidly move South along the Coast tonight from NOR-CAL bringing rain and low elevation snow to the area for Sunday and Monday.
..As it looks now, a fairly deep Trough of Low pressure will slide South from NOR-CAL Sunday. This will be a 534dm Low (cold) as it arrives off the coast of SoCal by Sunday afternoon. Then it will split off from the bottom of the Trough becoming a Cut Off Low Sunday evening, just offshore of SoCal.
..As this Low splits off from the Trough, it will continue to deepen and entrain more cold air from the North. This will make for low elevations snow levels for our area on Sunday and Monday. Snow will be likely Sunday starting at ~4500-5000′, then slowly lower to the 3000-4000′ level by Sunday night. Then a little lower Monday morning. As it looks now, the bulk of the storm will move through Sunday night into early Monday morning. Snowfall estimates are; 3000-4500′-1-3″, 4500-6000′-4-8″, and from 6000-8000′-6-12″ possible.
..NWS..WINTER STORM WATCH has been issued for our area by the NATIONAL WEATHER SERVICE WINTER STORM WATCH REMAINS IN EFFECT FROM SUNDAY MORNING THROUGH LATE MONDAY NIGHT.
..🔮 For the CRYSTAL BALL OUTLOOK:
..All of this will clear out by early Tuesday a Ridge of High pressure rebuilds across the Region. Temperatures will remain cold through most of the work week next week. After this storm clears out, I don't see anything to follow for at least the next five days. RC*

Yesterday's High and Low temperatures and current winds:
Crestline: 64/32*-E-2-5mph, Playground Dr: 54/36*-N-7-12mph, Dart Canyon: 60/39*, Cedar Pines Park: 50/36*, Twin Peaks-Summit area: 64/32*, Rim Forest: 54/34*, Lake Arrowhead Village: 57/28*, MacKay Park: 59/35*, Rock Camp: 64/40*, Arrowhead Villas: 51/34*-N-4-6mph, Cedar Ridge: 57/33*, Cedar Glen: 57/37*, Heaps Peak: 54/36*-N-8-20mph, Running Springs: 53/33*, Live Oak-RS: 54/37*-NE-4-9mph, Arrowbear: 58/25*, Green Valley Lk: 54/25*, Fawnskin: 54/26*, Big Bear: 54/24*, Baldwin Lake: 54/31*, Upper Waterman Canyon: 68/35*-NE-4-8mph, Lower Waterman Canyon: 65/43*-N-3-5mph, San Berdo: 69/37*, Devore: 66/39*-N-3-7mph, Cajon Pass: 63/39*-N-3-5mph, Santa's Village: 55/34*-N-3-5mph, Mt High Ski: 59/28*.
https://lakegregoryweather.com/wp-content/uploads/2022/09/logo6.png
0
0
Ron
https://lakegregoryweather.com/wp-content/uploads/2022/09/logo6.png
Ron
2021-10-24 10:58:22
2023-01-28 10:37:37
Saturday, January 28, 2023