TODAY'S LATEST SATELLITE PICTURES: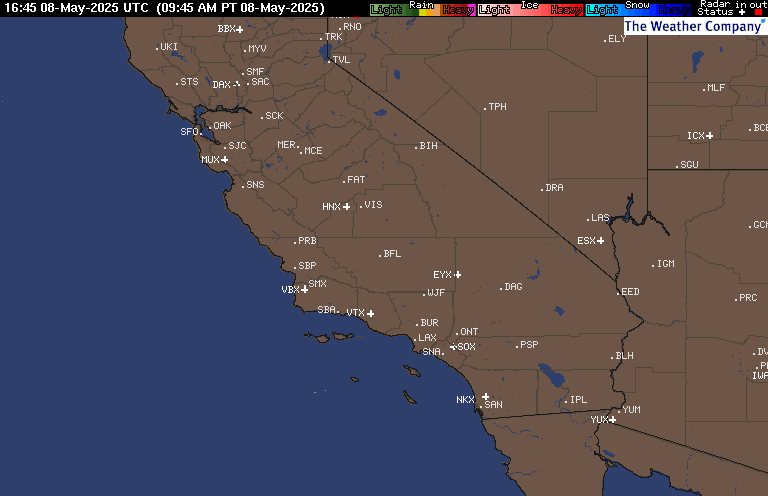 ---
---
TODAY'S WEATHER DISCUSSION AND FORECAST:
..Good Morning.
..Rain is just beginning to fall across the area as of 9:00am.
..The area of Low pressure that has been sitting off the SoCal Coast, has finally begun to move Inland this morning.
..Light rain has been falling to our West over the Los Angeles, San Diego and Ventura Counties since dawn today. Showers will increase today as the Low moves East across the Region. Estimated rainfall amounts will be the greatest along the West facing slopes with up to .75″ possible due to Orographic lift there. Up from yesterday's estimates of .25 max.
..For the mountains, rain will be likely off and on through Tuesday morning. Snow levels will be running above 7500′ locally. Rainfall totals across most of the area will be from .25-.70″ of rain possible through tomorrow.
..The Dynamics of this system are pretty weak so the chance for a Thunderstorm or heavy rain is not likely as it looks this morning. A couple of areas of Vorticity will pass over today, one around 2pm and another overnight. This is when we will see the best chances for more consistent rainfall.
..As the Low moves East tomorrow, we will see slowly clearing skies for all of SoCal. Temperatures tomorrow will remain on the cool side with daytime highs in the mid 40s to low 50s across the area.
..Then for Wednesday a Ridge of High pressure will begin to build over the Region with warming temperatures through the end of the week ahead. However, Thursday as the 500mb pressure builds in the Great Basin, we will see weak Santa Ana winds develop locally.
..Hopefully this rain won't affect the progress on the HWY 18 project. RC*
..Thanks for joining me at lakegregoryweather.com
---
Yesterday's High and Low temperatures and current winds:
Crestline-58/43*, Playground Dr-55/43*, Cdr-Pines Park-58/42*, Dart Canyon-57/45*-SW-10-15mph, Twin-Peaks-55/38*, Rim Forest-55/42*, Lake Arrowhead Village-58/38*-SW-5-8mph, Lake Arrowhead North-56/42*, Rock Camp-61/43*, Arrowhead Villas-52/41*, Heaps Peak-51/40*, Running Springs-51/38*, Arrowbear-54/33*, Green Valley Lk-50/35*, Big Bear-53/32*, Upper Waterman Canyon-63/49*-SE-1-3mph, Lower Waterman Canyon-70/53*-S-2-5mph, San Berdo-75/52*, Devore Heights-69/50*, Cajon Pass-68/49*-SE-6-8mph, Wrightwood-52/34*, Sky Park-52/41*-SE-1-5mph.
https://lakegregoryweather.com/wp-content/uploads/2017/06/logo6.png
0
0
Ron
https://lakegregoryweather.com/wp-content/uploads/2017/06/logo6.png
Ron
2021-10-24 10:58:22
2022-01-17 10:36:20
Monday, January 17, 2022