TODAY'S LATEST SATELLITE PICTURES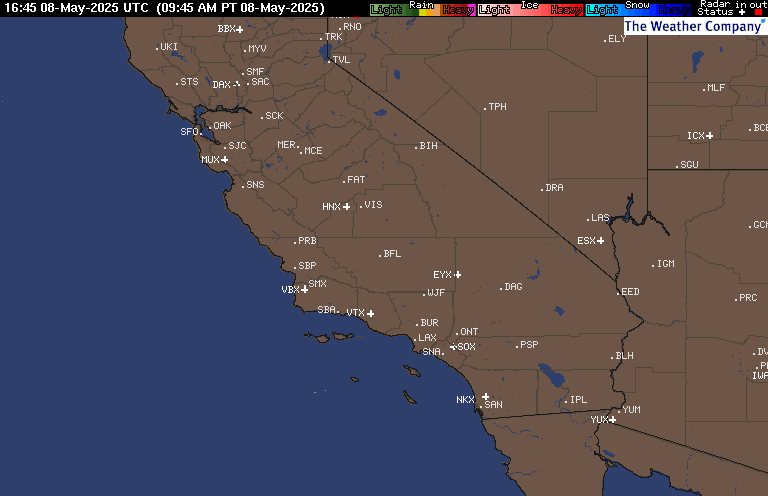 ---
---
TODAY'S WEATHER DISCUSSION AND FORECAST
..Good Morning.

..TODAY'S WEATHER:
..This mornings Marine Layer has deepened to around the 5500-6000′ level as of 7am. Wet roads and poor driving conditions will be with us through Thursday night before we see the next change in our weather. Moring Drizzle or even a light rain shower Wednesday will be possible as the center of Low moves through.
..Temperatures will remain on the cool side with daytime high Temps running in the upper 50s to low 60s for most of the mountain communities. Big Bear will be above the Marine layer and will be a little warmer then the rest of the area with daytime highs there in the mid to upper 60s. Gusty winds each afternoon can be expected as well.
..LOOKING AHEAD:
..A Closed Low will move onshore today around Point Conception. This will keep us in an onshore flow with cool temperatures, and morning Fog through Thursday.
..Friday things will begin to change as High Pressure moves in from the West. Temperatures will warm up and dry out fairly quickly for the weekend with little to no Fog for the weekend. This will make for a very nice weekend in the mountains.
..The next change in our weather will come early next week after a nice weekend. Sub Tropical moisture will return by Tuesday to our area. There will be a chance for Thunderstorms over the Big Bear and lower Deserts for most of the work week next week. Some of these storms could drift our way towards Crestline and Lake Arrowhead at times. Temperatures will be seasonal with daytime highs in the upper 60s to low 70s as it looks now.
..The Crystal Ball Outlook:🔮
..The Crystal Ball is having a melt down as the long range weather outlook has it confused. We could be entering a El Nino affected weather pattern that will bring Monsoonal Moisture into the Region early this year. Or?? So we will just have to wait until things clear up a little. Reboot. RC.
..So that's it for today. Thank you for visiting my weather webpage, and thanks for all of your support. RC*
Yesterday's High and Low temperatures and current winds:
Crestline: 60/43*-NE-2-5mph, Playground Drive WS: 50/43*-SW-10-16mph, Dart Canyon: 57/42*, Cedar Pines Park: 49/41*, Pilot Rock Camp:(at lake Silverwood)-65/46*-FM-16gm-SW-5-18mph, Twin Peaks-Summit area: 61/44*-E-3-5mph, Rim Forest: 60/42*, Lake Arrowhead Village: 63/40*, MacKay Park: 66/44*, Rock Camp(Deer Lodge Park area): 67/44*-FM-9gm-SW-5-13mph, Arrowhead Villas: 55/42*, Cedar Ridge: 59/46*, Sky Park-56/43*-SE-2-5mph, Heaps Peak: 53/44*-S-10-15mph-FM-10gm, Running Springs: 60/44*, Live Oak RS: 62/44*, City Creek RS-65/49*-NW-2-10mph, Arrowbear WXST-64/34*, Green Valley Lk: 65/40*, Big Bear: 68/32*, Upper Waterman Canyon: 60/49*-SW-2-7mph, Lower Waterman Canyon: 69/55*-S-2-5mph, San Berdo: 72/58*, Devore Heights: 57/42*-FM-16gm-E-5-7mph, Cajon Pass: 64/53*-E-8-15mph. FM=Fuel moisture in grams for the light fuels and Vegetation.
https://lakegregoryweather.com/wp-content/uploads/2022/09/logo6.png
0
0
Ron
https://lakegregoryweather.com/wp-content/uploads/2022/09/logo6.png
Ron
2021-10-24 10:58:22
2023-05-30 08:58:32
Tuesday, May 30, 2023