TODAY'S LATEST SATELLITE PICTURES: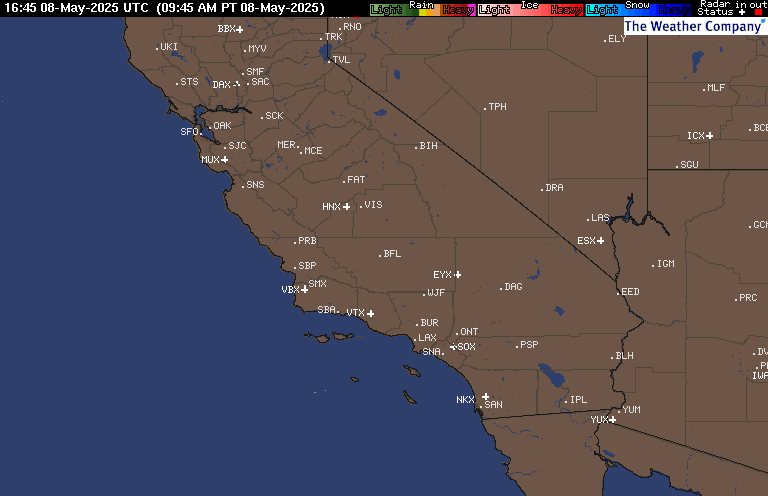 ---
---
TODAY'S WEATHER DISCUSSION AND FORECAST:
..Good Morning.
..Change is in the air.
..Today the area of Low pressure that brought rain and snow to the Big Bear area yesterday, will continue to push moisture into the Big Bear along with the Lower Deserts. The local mountain region West of Big Bear will continue to have a chance for scattered showers through most of today.
..All of this will begin to move East towards Arizona later today.
..The winds that blew hard yesterday will taper off today as the Low to our South weakens, then moves East. Gusty winds are still blowing in the Waterman canyon area and along the local Passes and front side of the mountain. Along the Ridges winds are still strong as well but they too will taper off today.
..Tomorrow, temperatures will warm up a few degrees as zonal flow aloft briefly takes over. The winds will turn to onshore by the afternoon in advance of the next weather system that will affect our area Friday and Saturday.
..This next system will again be cold, but will be a Pacific system with more available moisture. Snow levels for Saturday could lower to around 4000′ at times. Snowfall amounts will vary by areas, but we could see several inches above the 5500′ level. From 4000-5500′ rain and snow will be likely with snowfall amounts from 1-3″. From 5500-7000′ up to 6-8″ of snow is possible.
..Winter weather advisories will be in effect for the weekend as this cold core storm moves through SoCal. Gusty winds will return but not like the winds of the last couple of days.
..Ridge fog can be expected Friday night and Saturday, this system will begin to clear out Saturday night making for a partly cloudy day Sunday.
..Sunday night late or early Monday morning, another cold storm will arrive to SoCal. This system has the potential to bring heavy rain and snow to the mountain areas lasting on and off through Wednesday.
..Looking out further, this pattern may continue through next week with storms pushing through on 48 hour intervals.
..We still have a high wind warning this morning but should expire by this afternoon.
..That's it for now! *RC
---
Yesterday's High and Low temperatures and current winds:
Crestline-44/36*, Playground Dr-37/32* Winds N-22-25mph, Cdr-Pines Park-44/35*, Twin-Peaks-41/31*, Rim Forest-37/31*, Lake Arrowhead Village-40/34*wind-W-6mph, Arrowhead Villas-41/33*, Heaps Peak-38/29* Wind-N-9-16mph, Running Springs-42/31*, Big Bear-35/30, Upper Waterman Canyon-49/43* Winds-N-15-20mph, San Berdo-62/53*, Cajon Pass-53/47* Winds-N-20-25mph, Devore Heights-60/51*.
---
http://lakegregoryweather.com/wp-content/uploads/2017/06/logo6.png
0
0
Ron
http://lakegregoryweather.com/wp-content/uploads/2017/06/logo6.png
Ron
2020-04-16 09:28:56
2021-01-20 08:49:55
Wednesday, January 20, 2021