TODAY'S LATEST SATELLITE PICTURES: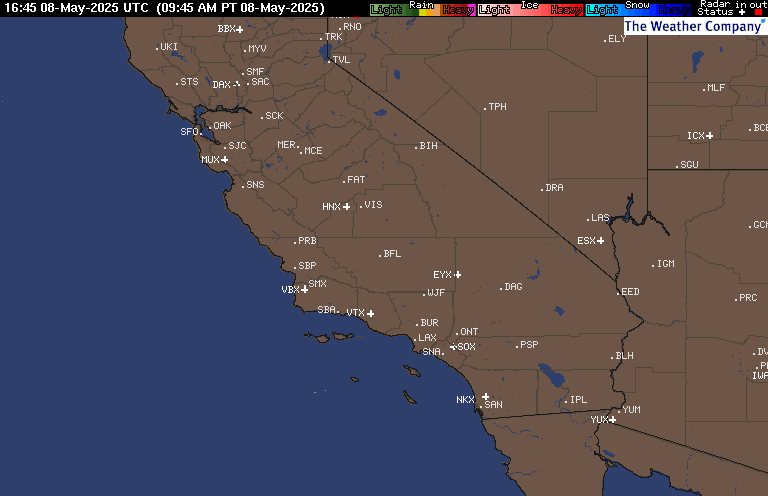 ---
---
TODAY'S WEATHER DISCUSSION AND FORECAST:
..Good Morning.
..WATCHES/WARNINGS/ADVISORIES…
CA…Wind Advisory until 4 PM PDT this afternoon for Orange County Inland Areas-San Bernardino County Mountains-San Bernardino and Riverside County Valleys-The Inland Empire-Santa Ana Mountains and Foothills.
..The wind is blowing this morning! Here are a few locations wind readings from this morning. Heaps Peak-22-30mph, Playground drive-15-28mph, Marshal Peak-16-25mph, Crestline-10-26mph, Lake Arrowhead Village-8-17mph, Waterman Canyon-10-26mph, all from the NNE direction.
..Today we will have gusty NE winds all day. A fairly strong pressure gradient between Daggett and the Coast will give us a windy day today. Along with the winds, humidity levels will be very low as well running from the teens to the single digits for this afternoon and evening. Our temperatures on the mountain will be a little cooler then yesterday due to the winds, but along the foothills and in the Valley, temperatures will be much warmer with highs expected to be in the upper 80s to 90* due to compressional heating.
..As a result, today the FIRE DANGER levels will be elevated from noon to the early evening tonight, and again tomorrow. However, the winds will taper off overnight, but the humidity levels will remain low through Tuesday before we see any significant recovery.
..Tuesday a trough will begin to move into the PAC-NW. The winds will shift to an onshore pattern along with cooler temperatures through Thursday. The Marine layer will deepen Wednesday and Thursday in SoCal. As the Marine layer deepens, there will be a chance for morning drizzle in the Valley as well as Fog along parts of the Rim especially Thursday morning. One model is in favor of a slight chance for a rain shower, mainly West of the Mountains.
..Then for Friday through the weekend, clearing skies, warmer temperatures and generally a nice weekend ahead..
..That's it for today! *RC
---
Yesterday's High and Low temperatures and current winds:
Crestline-63/42*, Playground Dr-56/43*, Cdr-Pines Park-62/43*, Twin-Peaks-58/41*, Rim Forest-67/42*, Lake Arrowhead Village-64/35*, Arrowhead Villas-59/41*, McCay Park-61/40*, Heaps Peak-52/41* Wind N-10-15mph, Running Springs-58/41*, Big Bear-57/25*, Upper Waterman Canyon-65/50*, Lower Waterman Canyon-73/47*, San Berdo-77/49*, Cajon Pass-66/46*, Winds-NW-12-20, Devore Heights-73/46*, Cajon Lookout-61/49*-Wind-N-15-20mph.
---
http://lakegregoryweather.com/wp-content/uploads/2017/06/logo6.png
0
0
Ron
http://lakegregoryweather.com/wp-content/uploads/2017/06/logo6.png
Ron
2020-04-16 09:28:56
2021-04-18 09:28:52
Sunday April 18, 2021