TODAY'S LATEST SATELLITE PICTURES: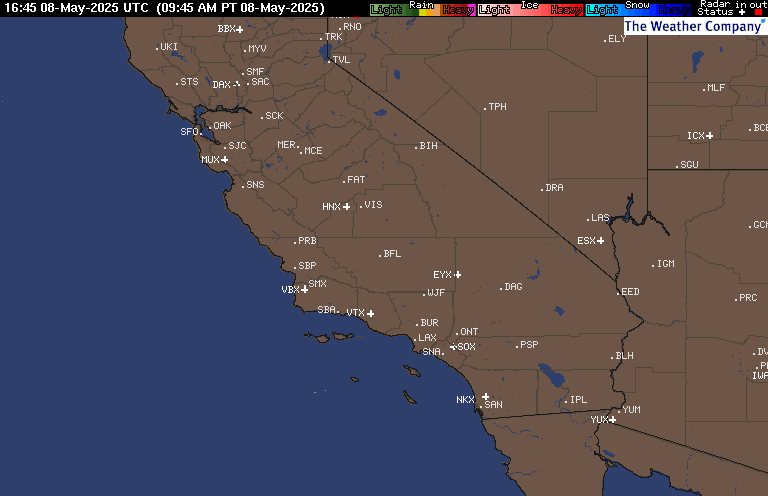 ---
---
TODAY'S WEATHER DISCUSSION AND FORECAST:
..Good Morning.
..Today we will have increasing clouds with rain, and snow above the 4600′ level at times. As it looks now, any accumulations of snow will mostly be above the 5000-5500′ level where 1-3″ could fall. Earlier this morning, there were a few lightning strikes showing up offshore but as of 9am they are gone, for now. As the storm moves onshore we will see increasing winds, rain, and a chance for Thunderstorms. The snow levels look like it will start out at around the 6200′ level, then slowly lower to around the 4500′ level by 5pm when the coldest part of the storms arrives locally. Rainfall amounts will be under an inch for the area however heavy rain showers could develop where any Thunderstorms do occur. The southwest facing slopes will see the greatest rainfall amounts due to Orographic lifting.
..The recent burn areas need to be aware of rapidly changing weather conditions due to the unstable nature of this storm. Thunderstorms that do materialize could cause brief heavy downpours causing heavy runoff.
..Tomorrow, all of this will clear out with temperatures warming up for a couple days. A Ridge of High pressure will move over the Region bringing in a warmer air mass to SoCal. We will see gusty winds as todays system moves East, but they should not be to strong. Skies will be clearing and overall a couple of nice days for Thursday and Friday.
..Saturday and Sunday a Trough will move through the PAC-NW. We may see a few clouds from this this Trough as it moves through to our North, but n oi rain is expected from this one. Both days will be cooler with mostly clear skies.
..Looking out long range, we could see more rain for the middle of next week as another stronger system moves through the PAC-NW. We will be on the trailing edge again, so will have to see if it can hold together. Don't forget to check on the main page of the website for live radar and sat pics.
..Have a good day. That's it for today! *RC
---
Yesterday's High and Low temperatures and current winds:
Crestline-60/33*, Playground Dr-55/37* Winds-S-11-15mph, Cdr-Pines Park-NR/NR*, Twin-Peaks-60/34*, Rim Forest-60/36*, Lake Arrowhead Village-61/29* Winds-SE-10-15mph, Arrowhead Villas-57/34*, Heaps Peak-53/33*-Winds-S-12-22mph, Running Springs-56/33*-Winds-SE-2-4mph, Big Bear-55/24*, Upper Waterman Canyon-NR/NR*-Winds-S-mph, Lower Waterman Canyon-NR/NR*-Winds-mph, San Berdo-79/40*, Cajon Pass-NR/NR*-Winds—mph, Devore Heights-73/46 *Winds-SE-2-6mph, Cajon Lookout-NR/NR*-Winds—mph.
---
http://lakegregoryweather.com/wp-content/uploads/2017/06/logo6.png
0
0
Ron
http://lakegregoryweather.com/wp-content/uploads/2017/06/logo6.png
Ron
2020-04-16 09:28:56
2021-03-03 10:41:38
Wednesday, March 03, 2021