TODAY'S LATEST SATELLITE PICTURES: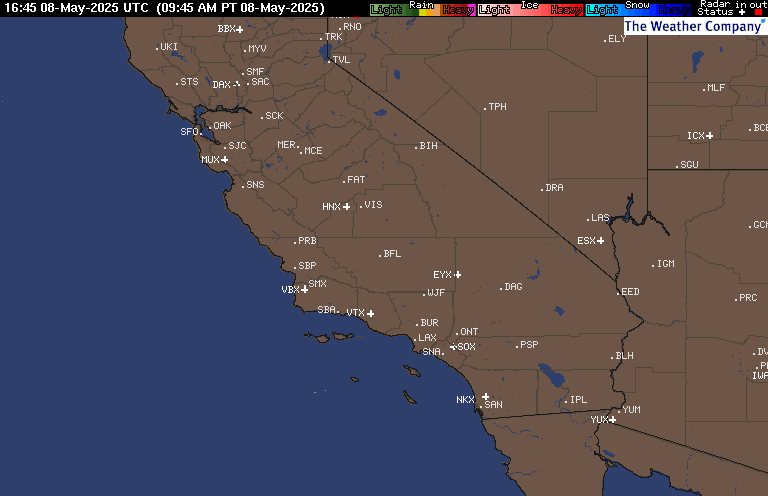 ---
---
TODAY'S WEATHER DISCUSSION AND FORECAST:

..Good Morning.
..Yesterday was HOT across the mountains. Crestline came in at 98*, Lake Arrowhead Village-98*, Running Springs-87, And Big Bear at 89*. We had high clouds for a good part of the day with only light winds. Humidity level yesterday were very low but this morning the humidity is up quite a bit.
..Today will be another very warm days across the area. The Valley will be in the 100-110* range, the Deserts will be from 109-119*, and for the mountains, we will be running in the low to mid 90s.
..The area of high pressure that has brought these very warm temperatures to the southland remains strong and positioned over the four corners States this morning.
..The current Heat Wave has brought a NWS EXCESSIVE HEAT WARNINGS AND WATCHES to the Inland region including the mountains that will be in effect through 9pm Saturday.
..Lower level moisture is moving into the IE which may bring a chance for a thunderstorm this afternoon and Thursday afternoon for the San Bernardino mountains.
..Friday the area of High pressure will begin to weaken as it slowly moves to the Southwest. Saturday and Sunday will be a little cooler but Monday is when we will see a nice break from the heat.
..Monday an area of Low pressure will slide South along the California Coast bringing in much cooler air that will last through the work week next week. Temperatures at that time will return to more normal for this time of year.
..That's it for now.*RC
---
Yesterday's High and Low temperatures and current winds:
Crestline-98/65*, Playground Dr-90/80*, Cdr-Pines Park-90/78*, Dart Canyon-94/71*, Twin-Peaks-92/78*, Rim Forest-91/78*, Lake Arrowhead Village-98/61*, Arrowhead Villas-97/78*, MacKay Park-96/69*, Rock Camp-102/69*, Heaps Peak-86/79*, Running Springs-87/75*, Big Bear-89/51*, Upper Waterman Canyon-97/79*, Lower Waterman Canyon-102/72*, San Berdo-106/71*, Cajon Pass-100/76*, Devore Heights-97/76* all stations have clear skies this morning with high clouds.

---
http://lakegregoryweather.com/wp-content/uploads/2017/06/logo6.png
0
0
Ron
http://lakegregoryweather.com/wp-content/uploads/2017/06/logo6.png
Ron
2020-04-16 09:28:56
2021-06-16 07:59:03
Wednesday, June 16, 2021