TODAY'S LATEST SATELLITE PICTURES: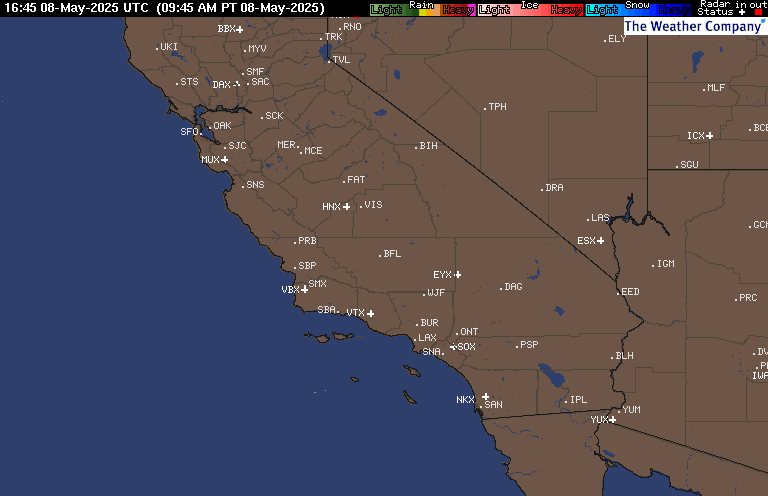 ---
---
TODAY'S WEATHER DISCUSSION AND FORECAST:

..Good Morning. HAPPY BIRTHDAY ROBIN!!
..Well yesterday was HOT, and today will be no exception. Temperatures around the area ran from the upper 80s to mid 90s yesterday and today doesn't show any signs of change. An area of High pressure that is currently centered over SoCal will remain strong today pushing up temperatures across most of the Southland. The Deserts will be pushing 120*, the Valley will be near 109* and the Mountains above 6000′ will be in the upper 80s, with temperatures in the low to mid 90s for Crestline, Lake Arrowhead, Cedar Glen, Sky Forest, etc.
..A HEAT ADVISOY is in effect for all areas below 6000′ today through 8pm tonight.
..Tomorrow an area of Low pressure will begin to affect the PAC-NW. This will bring gusty winds to the NOR-CAL Fires, along with an increase in onshore flow to SoCal as the Trough moves onshore, there.
..As the Trough arrives to our North, the Ridge of High pressure across the SoCal, Arizona, and Nevada will flatten out and slowly weaken over SoCal as it retracts to the East.
..This will allow a slow cooling trend to begin tomorrow, lasting through Monday. Also keeping the Monsoonal Moisture to our East.
..As the Ridge of High pressure flattens out, a Zonal flow will develop from the West, keeping our area in a South to Southwest air flow. The Coastal areas will see increasing Fog and low Clouds develop near the Coastal zones.
..Next Monday, High pressure will begin to rebuild to our East slowly expanding towards SoCal. As a result, we will see increasing temperatures again. However, another deep trough of Low pressure will move into the PAC-NW late in the work week again, this time bringing much cooler air, along with gusty SW winds to most of California. The down side of this will be, as the Trough moves East, we may see a short Santa Ana wind event here in SoCal along the backside of the Trough. The Seasons look like they area are beginning change. ??
..The local FIRE DANGER LEVELS remain VERY HIGH for all areas today.
..That's it for now.*RC
---
Yesterday's High and Low temperatures and current winds:
Crestline-95/63*, Playground Dr-87/74*, Cdr-Pines Park-92/75*, Dart Canyon-92/76*, Twin-Peaks-92/74*, Rim Forest-92/69*, Lake Arrowhead Village-95/61*, Arrowhead Villas-86/71*, MacKay Park-93/68*, Rock Camp-96/70*, Heaps Peak-83/74*, Running Springs-84/70*, Big Bear East-87/54*, Upper Waterman Canyon-96/78*, Lower Waterman Canyon-101/72*, San Berdo-109/71*, Devore Heights-92/76*, Cajon Pass-99/75*, LK-Silverwood-97/73*, Arrowbear-90/56*. All mountain stations have Clear skies this morning with a light NE breeze.
http://lakegregoryweather.com/wp-content/uploads/2017/06/logo6.png
0
0
Ron
http://lakegregoryweather.com/wp-content/uploads/2017/06/logo6.png
Ron
2020-04-16 09:28:56
2021-08-04 10:26:11
Wednesday, August 04, 2021