TODAY'S LATEST SATELLITE PICTURES: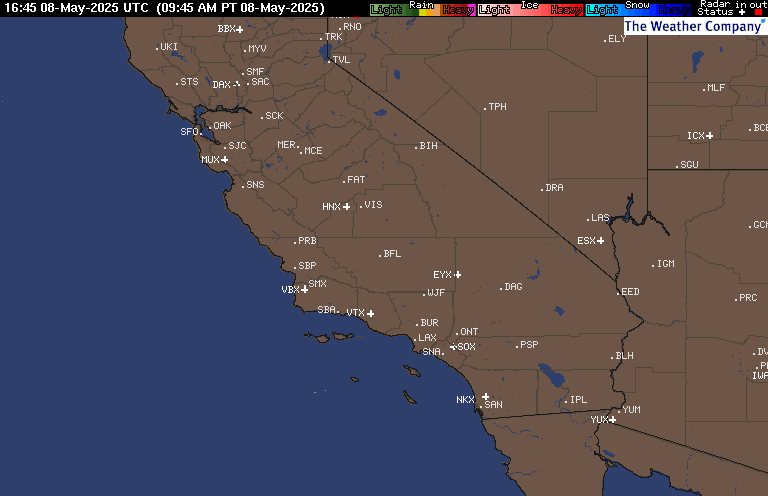 ---
---
TODAY'S WEATHER DISCUSSION AND FORECAST:
..Good Morning.
..High clouds overhead signal a change in our weather is coming.
..Today along with the high clouds, temperatures will be a little warmer as the winds die out from the NE and switch to an onshore flow ahead of the weather change.
..Tomorrow an area of Low pressure will move Inland from over the Pacific Ocean. This is a compact Low that will move in fast, bringing rain, and some snow to the area during the afternoon hours through early evening before departing Thursday morning.
..Currently there are a few Thunderstorms imbedded in that system along the south western periferi of the Front.
..As the Front approaches SoCal, there will be a chance for Thunderstorms from this system here, as well as brief heavy downpours, along with a chance for snow showers as low as the 4500′ level. Snow accumulations should remain above the 5000 foot level with 1-3″ possible for the higher elevations. If we do see Thunderstorms locally, the Snow/Hail could fall at much lower elevations for brief periods of time, which will make for poor driving conditions on our local roads.
..Due to the unstable nature of this system, run off from potentially heavy showers during any Thunderstorms that do develop could cause problems in the recent fire Scar areas. People in those areas need to heed warnings from the NWS as this system moves onshore as well as watch the local Radar for the potential of quickly changing dynamics of this storm. Rainfall estimates from this storm range from .10 at the Coast, to as much as 1.00″ along the West facing slopes of the local mountains. Orographic lift will play a part in the total rainfall amounts locally.
..All of this will clear out Thursday leaving partly cloudy skies and cooler temperatures.
..Friday we will warm up as High pressure returns.
..The weekend is looking windy and cool with another chance for rain both Saturday and Sunday. Two systems will pass to our North over the weekend, the question is will these storms dissipate before reaching SoCal?
..Looking out in the Crystal Ball, there are several chances for additional rainfall for SoCal over the next week to ten days. While none of these systems look like drought busters, and rain will be welcomed.
.. More on that tomorrow..
..Have a good day. That's it for today! *RC
---
Yesterday's High and Low temperatures and current winds:
Crestline-55/28*, Playground Dr-56/42* Winds-N-5-6mph, Cdr-Pines Park-53/41*, Twin-Peaks-51/42*, Rim Forest-58/40*, Lake Arrowhead Village-58/25* Winds-E-2-4mph, Arrowhead Villas-55/41*, Heaps Peak-52/43*-Winds-S-4-5mph, Running Springs-50/39*-Winds-SE-2-4mph, Big Bear-50/15*, Upper Waterman Canyon-62/47*-Winds-S-1-3mph, Lower Waterman Canyon-68/48*-Winds-NE-1-4mph, San Berdo-73/40*, Cajon Pass-67/48*-Winds-NW-15-22mph, Devore Heights-65/45*Winds-SE-2-6mph, Cajon Lookout-53/37*-Winds-NE-14-22mph.
---
http://lakegregoryweather.com/wp-content/uploads/2017/06/logo6.png
0
0
Ron
http://lakegregoryweather.com/wp-content/uploads/2017/06/logo6.png
Ron
2020-04-16 09:28:56
2021-03-02 10:23:09
Tuesday, March 02, 2021